A regional farming town in north-east Victoria might not be the place you would expect to find a world-class street art scene.
But tiny Benalla (population roughly 10,000) has exactly that, and is rapidly laying claim to the title of regional street art capital of Australia. Here are some tips for seeing the best Benalla street art and silo murals.
It all started as an idea to draw more visitors from Melbourne. In 2015, Benalla business and tourist leaders teamed with award-winning street art network Juddy Roller (founded by Benalla native Shaun Hossack) to stage the first Wall to Wall festival. They invited street artists to transform the town with colourful murals. It was a big hit. The festival has been an annual event ever since (although sadly, it took a break in 2020 due to the pandemic).
During each festival, artists are given carte blanche to transform their allocated space. The mural is painted 'live' over a weekend, giving locals and visitors a unique opportunity to watch art come to life and interact with artists at work. 
You May Be Interested In: World class street art in rural Victoria (Benalla)
The festival's ongoing legacy is an outstanding street art gallery, which is now a major tourist drawcard for the town. Benalla also makes a great base for following the North East Silo Art Trail.'
Explore Benalla's street art scene
Some of the best-known street artists whose work adorns the town's walls are Jimmy Dvate, Tim Bowtell (a Benalla local), Rone and Adnate. All up, about 75 murals are dotted around central Benalla. Among the most popular pieces are a portrait of a pensive Ned Kelly before the siege at Glenrowan (by Andrew J Bourke), a stunning sugar glider by Dvate, and a poignant homage to the thousands of migrants who came through Benalla's migrant camps in the 1950s and 60s on their first step to a new life in Australia.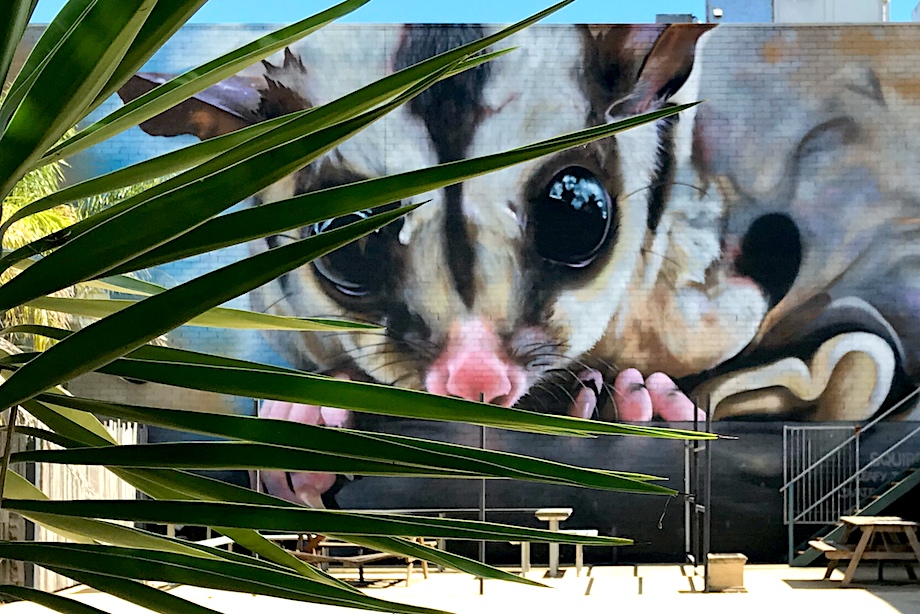 The organic nature of street art means that many murals are eventually painted over, but there's one notable exception. After Widewalls named Adnate's portrait of a Burmese girl – created for the first Wall to Wall festival in 2015 – as the 8th best mural in the world, it has been made a permanent feature of the town.
It's easy to explore the murals on foot in a couple of hours. You can pick up some information from the visitor information centre (where you can also visit the Costume and Kelly Museum). For a deeper dive into the street art experience, Visit Benalla runs walking tours packed with festival anecdotes and stories about the artists and their inspiration. Tours can be tailored to guests' particular interests.
Follow the North East Silo Art Trail
Benalla is also an ideal base to explore the North East Art Trail. In recent years, huge grain silos have become massive canvases, taking street art murals to epic new heights. Within easy reach of Benalla, a series of silo artworks illustrate the region's history and native flora and fauna.
Western Australian artist Sobrane Simcocky was invited to paint a series of concrete and steel silos at Tungamah in 2018. Using 60 litres of paint and 142 spray cans, she created a colourful collection of native birds and Clydesdale horses in an astonishingly quick eight days. Other silo art projects soon followed, giving rise to the popular trail.
Today there are silo art sites to explore in the tiny towns of Goorambat, Devenish and St James, along with Tungamah. Another silo will soon join the trail at Katamatite, where Tim Bowtell will paint his third silo project.
At Goorambat (15 minutes' drive from Benalla), Dvate has created a stunning interpretation of an endangered Victorian barking owl and its ironbark forest habitat. It was completed in just under a month in early 2018. A famous trio of local Clydesdale horses features on a circular steel silo at the same site. Goorambat's Uniting Church is home to a beautiful mural of a woman – dubbed 'Sophia' – by Adnate.
Painted by Cam Scale, a moving tribute at Devenish to a World War I nurse and modern military medic is a towering 20 metres tall and 10 metres wide. Benalla was once home to the 8th Light Horse Regiment, a source of great pride for the region. Scale added a portrait of a light horse soldier and his mount to a round silo at the Devenish site in 2019.
Four silo murals in St James celebrate the life of the local identity GJ Coles (founder of the supermarkets that bear his name), and the tale of a record wheat harvest in the region. Tim Bowtell created these works in sepia tones, giving them the character of old photographs with camera-like detail.
Plan your silo art road trip
A road trip to visit the art at Goorambat, Devenish, St James and Tungamah will take two to three hours from Benalla, allowing plenty of time to stop and admire each site. It makes a delightful half-day tour when you add a pub lunch or afternoon tea in one the towns.
You can extend your silo art road trip by visiting the nearby town of Dookie to see its burgeoning Nomadic Silo project (which features street art on decommissioned portable silos). There's even more art to see at Winton Wetlands (30 minutes' drive from Benalla), including Guido Van Helten's popular portrait of CFA volunteers – painted during the 2016 Wall to Wall festival.
Need a place to stay?
Comfort Inn Benalla offers classic country hospitality and is the perfect base for exploring everything the surrounding region has to offer. At the end of a day of sightseeing, relax in the indoor heated pool and spa, or cook up a BBQ in the guest recreation area. The hotel offers free Wi-Fi and parking.
About the writer
Louise Reynolds is a Melbourne-based freelance travel writer. Louise made up her mind at the age of about four that she would one day travel the world – and has so far visited around 30 countries spread across five continents. Her favourite way to explore the world is on foot and her boots have taken her walking on famous trails in Europe, South America and New Zealand.
Cover image: Mural by Julian Clavijo. Image: Louise Reynolds