Tucked away on Queensland's shimmering Fraser Coast in the Wide Bay–Burnett region, Hervey Bay is a holiday retreat that will leave you feeling refreshed and revitalised.
Roughly four hours' drive (with breaks) north of Brisbane, Hervey Bay is perhaps best known as the home of humpback whale watching, and as the gateway to UNESCO World Heritage-listed K'gari Fraser Island. While the allure of these two attractions is undeniable, Hervey has so much more to offer – not least of all its clean beaches and calm protected waters, which are perfect for family holidays.
Here are some of the top things to do in Hervey Bay. Book your stay with Choice Hotels.
1. Go whale watching
Hervey Bay's whale watching season runs from July through to October and draws visitors from around the world. Migrating humpbacks use the calm waters of the bay to rest and recuperate during their mammoth annual migration between Antarctica and the warmer waters of the Pacific Ocean. Each whale spends around five days in the bay and so important is the region to their ecology, that Hervey Bay has been designated a Whale Heritage Site by the World Cetacean Alliance. Book your whale watching cruise well in advance during peak periods (it's also possible to swim with the whales!). To learn even more about these incredible animals, pay a visit to the excellent and very family friendly Fraser Coast Discovery Sphere.
2. Visit Fraser Island
While it suffered significant damage in the recent bushfires, majestic Fraser Island is already regenerating. Highlights on the island include gorgeous Lake McKenzie, the Champagne Pools, the Pinnacles rock formations, 75 Mile Beach and the beach wreck of the SS Maheno. And of course, there's the myriad fishing and four-wheel-driving opportunities. A day tour from Hervey Bay will show you the main attractions.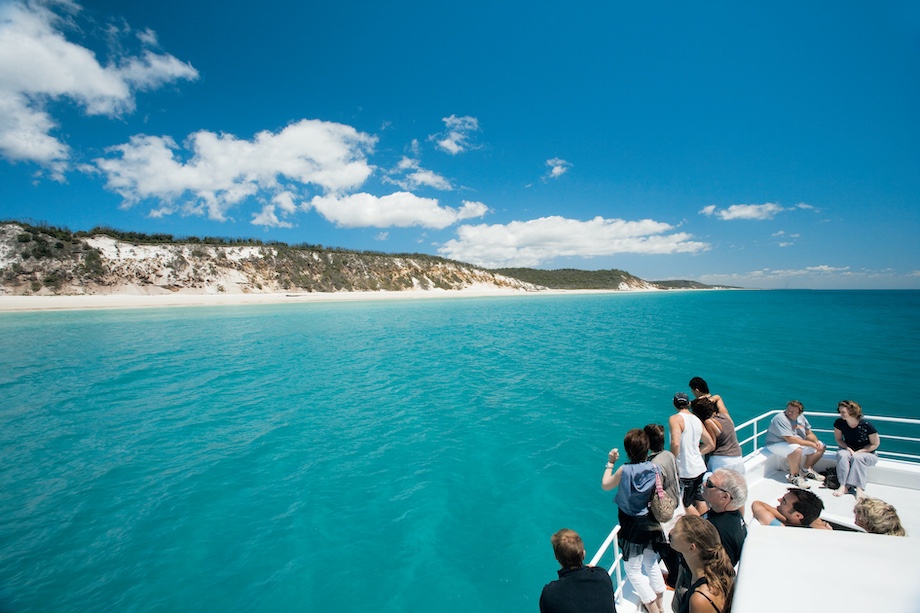 3. Learn some local history
Long home to the Butchulla First People, the first recorded European sighting of Hervey Bay was by Captain Cook in 1770. He named the bay after a fellow naval officer. The first European settlers arrived in the 1850s, and the area developed as a string of separate coastal villages. Hervey Bay was declared a 'city' in 1984, and thankfully that title is a bit of a stretch. Hervey is, however, the largest centre in the Fraser Coast region. To get more of an insight into the region's growth, drop by the Hervey Bay Historical Village and Museum. The museum encompasses 1.3 hectares of display space, and is packed with fascinating stories from the past.
4. Explore the Esplanade
Hervey Bay's Esplanade links Point Vernon at one end, to the Urangan Boat Harbour at the other. This 16-kilometre road, walking track and cycling path follows the course of the bay, and walkers, joggers and cyclists can all make the most of the stunning views and sea breezes. Several places along the Esplanade hire out bicycles (and there are even four-wheel cruiser bikes available for groups or families).
5. Go to the beach
The Esplanade also links Hervey Bay's tranquil beaches – so if you work up a sweat on your bike, there are always options for a cooling dip. The best beaches can be found at Pialba, Scarness and Torquay. Pialba is also home to the free-to-enter WetSide Water Park. The more active beachgoer may want to hire equipment such as kayaks, stand-up paddleboards and jet skis. Aquavue at Torquay will sort you out, and once you're done with the gear, their deck café is a great spot for lunch or a sundowner.
6. Throw in a line
If fishing is your holiday pastime of choice, you're in luck. At more than a century old, the iconic 800-metre-long Urangan Pier is the perfect place to throw in a line. It's also a great spot for a sunrise or sunset stroll, and offers no end of photo opportunities.
7. Enjoy the diverse dining
A variety of cafes and restaurants are scattered along the Esplanade. Also check out the Great Sandy Straits Marina, which offers everything from fish and chips to fine dining.
Need a place to stay?
Located in Pialba and close to shops, cafes, and the Hervey Bay Regional Gallery, Comfort Inn on Main Hervey Bay features 28 newly refurbished and air-conditioned rooms – each with onsite parking. Guests enjoy free Wi-Fi, use of the hotel's tropical-style in-ground pool, and a complimentary drink and discount on dining at the nearby Hervey Bay RSL Club.
Cover image: Tourism and Events Queensland